Millionaire Coach
What if you changed just one thing that resulted in phenomenal success and changed your life forever?
Behind every successful person is a coach. A coach holds the keys to unleashing your inner millionaire and sky-rocketing your success. If you are ready to make a change to realise your dreams you need to read this book.
Gillian Skeer – Master Coach NLP features as one of 16 Australian Expert Coaches who share their success secrets to achieving a millionaire mindset and having it all.
In this book you will discover:
How to create wealth in all areas of your life
How to design the lifestyle you have always wanted
How to be, do or have anything you want
How to enrich your life and enrich your world
How to reach your full potential faster
How to achieve everything you have ever wanted
How to identify the blocks holding you back from an extraordinary life!
Simply by purchasing a copy of Millionaire Coach you have access to a range of incredible gifts that if you implement, could potentially bring you millions!
These FREE GIFTS are located throughout the book at the end of the chapters …. scroll down to buy your e-book or hard copy of Millionaire Coach:
Your Download Cart
---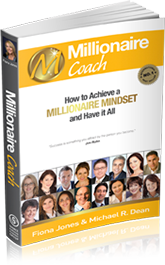 Hardcopy book
($39.95 + p&h)
Read more...