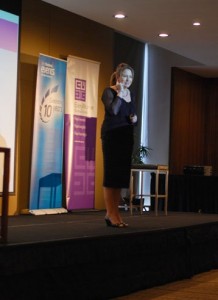 Experience Gillian Skeer's inspiring and thought-provoking presentations on a range of topics. Gillian Skeer – Master Coach NLP can be booked to speak and present at your next business event or team-building event. View Gillian's professional profile at LinkedIn.
Speaking Testimonials:
From Danielle Synen – EveryWoman Business Events Manager & Marketing Manager
Top qualities: Great Results, Personable, Expert.
Our half day EveryWoman Business  Events  seminar offered women working in business and commercial environments the chance to develop themselves professionally and personally, to grow their careers through developing their own business skills and goal setting skills. Master Coach Gillian Skeer was one of four successful and influential women who gave informative presentations and also participated in a Q&A panel session on the day.
Gillian Skeer's presentation was about evolving one's thinking to achieve success and how to embrace personal and professional change. Gillian Skeer's presentation was very inspiring and motivating with content that provided insightful and useful information to the audience. She quickly engaged with the audience by being energetic and involving the crowd with activities. Her knowledge of her subject was very thorough and provided different examples to the audience so that they could relate.
She is very professional and everyone thoroughly enjoyed Gillian's presentation. The feedback we received was overwhelming! We would be happy to engage Gillian's services in the future and look forward to working with her again!
From Julia Hayes – Principal at Swanbourne Business Centre
Top qualities: Great Results, Expert, High Integrity.
Gillian's public speaking skills are superb. She knows how to present material in an easy and lively manner, with fun anecdotes to keep the level of interest high. She brings energy and life into the room and motivates the audience to embrace her topic. Gillian stays in eye contact and responds to the audience's needs, knowing when to increase the pace or slow the tempo to ensure her material is being understood and embraced. Being highly skilled in NLP procedures gives Gillian insight into crowd psychology and momentum, which greatly assists in ensuring the audience feels well rewarded for its attendance.