Gifts that provide a meaningful experience or some time-out, give both the body and brain time to recover from the everyday demands of life.  It's particularly important when life's stresses become even greater, and the festive season is a prime time for stress levels to peak.
There is a noticeable shift in what people value these days.  Accumulation of more stuff does not necessarily equate to happiness or contentment.
At traditional times of gift-giving, maybe there is room for putting more meaning into the gift.  Think inspirational books, gift vouchers for wellness experiences, handmade and heartfelt items, a generous compliment, a phonecall, a hug, a smile, some precious shared time . . .
The act of giving something that is empowering, or of benefit to the wellness of the receiver, provides a greater sense of thoughtfulness and care, and can be profoundly life-changing.
Gift "experiences" designed to enliven the mind, body or soul, are gifts that provide enduring benefit.  And they are gifts that people often don't buy for themselves.  These experiences were once seen as a treat, or an indulgence, whereas these days people are recognising the inherent value of self-care and self-development.
As a Master Life & Success Coach I see many people who are challenged at this time of year.  Think about the person you want to give to.  How's their physical, mental and emotional well-being?
Gifting some nurturing will do wonders!
A new year is a gift in itself, another chance, an opportunity to take your life to the next level, a fresh start, a new chapter, a whole new frontier of endeavour.
Embrace it whole-heartedly, and just imagine where it can take you.
Truly make it a happy New Year!
Master Coach Gillian Skeer's Top Tips for the perfect gift:
1. Make it meaningful – show the recipient how special they are to you
2. Make it unique – receiving something individualised or unusual will boost the thrill-factor
3. Go for emotion – whether it's fun, enlightening, reminiscent, or even a little off the wall, a gift that
generates a positive emotion will be long-remembered.
4. Make it a keepsake – give something so meaningful, it will be treasured for life
5. Make it appropriate – thinking about the recipient's age, interests, capabilities, beliefs and other
qualities, then match them with a gift that's particularly suitable for them that they'll value.
6. It's not always about price. Sometimes the most perfect gift can cost nothing, yet still be priceless.
7. Give with love and with gratitude.  That's where the true meaning and value is.
Check out books to ignite your potential at https://creativecoach.co/books/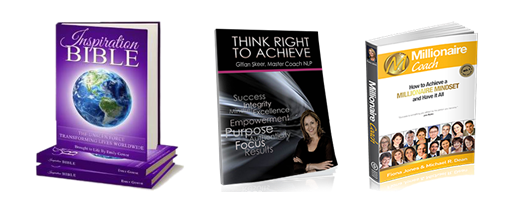 One of the most unique gifts – the gift that gives value for a lifetime!
Perth's Gillian Skeer is a Master Coach NLP and an Internationally Accredited Extended DISC  (Behavioural Profiling) Consultant.
Comments
comments