Do you ever feel like you are wearing a mask?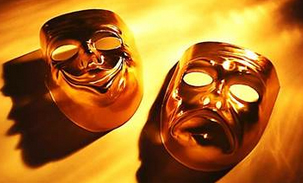 Do you feel that what you are showing the world is not the real you? Do you feel like you are playing a role in the performance of life that doesn't quite fit with who you really are?
Amazingly, most people don't stop to ask themselves the basic questions:
Am I fulfilling my purpose?
Am I fully utilising my skills?
Am I inspired by what I do?

Is how I live making me happy?
You might like to ask yourself, "How is NOT choosing to play full-out, in the role that is authentic for me, affecting my life experience?
Maybe it's time to evaluate what you're doing and who you really are.
Your challenge, should you choose to accept it…
Let's take a look at specific aspects of your life, and then ask the question "is this really me?"
Try this simple exercise.  It can be quite illuminating.
List all the aspects of your life down the left hand side of a blank page. These might include anything from the type of work you do, people you spend time with, where you live, your exercise choices, your diet, the style of clothes you wear, your spending habits, what you do in your spare time, and so forth.
Next to the list, make two columns, one with the heading/title "me" and the other with "not me".
Run through your life list and answer honestly – is this really me?  Or, is it NOT me?   For example, if you are working a job that requires extensive travel and being away from your family, ask yourself:  Is this me or, not me?  Do I feel comfortable with this choice?
Go ahead and tick the appropriate column.
Looking at your checklist, notice how many aspects of your life fall into the 'not me' column.  Every 'not me' on your checklist is a mismatch; a part of your life that doesn't fit with your beliefs or who you truly know yourself to be.
Only you can decide on the significance of your results.  If more than half your answers are 'not me', then it's probably time to make some changes.
Even a small number of mismatches can be enough to take the joy out of your life.
Your sense of discontent about your life choices may be telling you that a particular part is just 'not you' anymore.
By generating this checklist of what you believe about yourself, you can now take action with a constructive approach to living a life that's more YOU.
You have just gotten to know yourself a little better, and that's a good thing!
Comments
comments